This page will have all of twelf one's quizes, cliques, etc! :P

Which Dixie Chicks Song Are You?
brought to you by Quizilla

discover what candy you are @ stvlive.com
Are you Addicted to the Internet?
L33T H@x0r (81% - 100%)
You live and breathe the Internet. You rarely leave your computer(s) for fear of going through withdrawl. You are beginning to say "lol" and "brb" in verbal conversations and you haven't seen your friends face-to-face in months if you don't count their web cams. Maybe it is time to back away from the computer slowly and go get some fresh air? The Internet will be here when you get back!
The Are you Addicted to the Internet? Quiz at Stvlive.com!

Take the What High School Stereotype Are You? quiz, by Angel.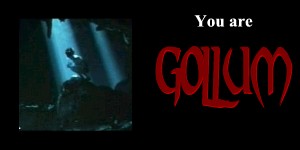 You're a hobbit gone bad. Apparently you can
redeemed of the corruption of the Ring, but considering
you murdered your best friend to get the Ring
in the first place, one has to wonder.
Advice: Try Sam's taters. They're not bad.


which gladiator character are you?
this quiz was made by plathc


The idealistic speechwriter is well-liked by just about everyone. He's known for his excellent writing, sense of humor, and tendency to be clutzy. Although being younger than the rest of the staff, he's often treated as so, much to his dismay.

:: Which West Wing character are you? ::